After my last shopping trip, I told myself that I'd be putting the bentos to good use.
In any case, I tried it out, and I particularly enjoyed using the usagi cookie cutter.
K's first attempt after a year of almost-not-cooking! XD XD
On top:
White rice and Usagi-shaped
Ma-ling
(a local alternative to Spam).
Bottom: (L-R)
Crispy
Ma-ling
scraps (what's left after the Usagi has been cut out),
kwek-kwek
(local streetfood which is basically hard-boiled quail eggs that are dipped in a flour batter, then deep-fried) with tonkatsu sauce, and hotdog octopi. All on a bed of salted iceberg lettuce.
Dessert:
Nissin Choco wafers, Blueberry and Strawberry-flavored Dewberry cream cookies, Potchi sugared strawberry cream chews (sort of like gummis...)
I wish I remembered to draw faces on the Usagi cuts. The hotdogs are actually quadrupi since I got lazy and cut only 4 legs. XD XD
(I also prepared the same food in a different bento box for my boyfriend)

Close-up of my bento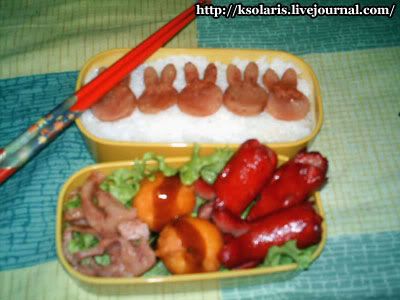 My boyfriend's bento